---
"Peg is always advocating for the dog. I have never had to worry about her doing something that will set my dog back; I cannot describe what a relief that is. Peg is an incredible resource and I feel very lucky to be able to work my dog with her." Wendy A. and HoneyBear, Saratoga Springs, NY

"Peg has made learning nosework a very positive and rewarding experience for both me and OPA. Peg offers very unique and varied training which has made us well prepared for our trial experiences. All of Peg's training sessions are informative and more importantly FUN!" Lynda F. with Memphis and OPA - Hinsdale, MA
---
About Peg Munves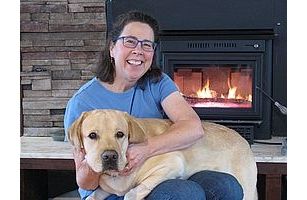 Peg Munves, CPDT-KA, runs Step in Time Training, LLC., and follows the LIMA* guidelines. Located in New York City until mid-2014, Peg is now Berkshire based, offering a variety of services related to dog sports training.
She is a versatile and motivating trainer who encourages the development of cooperative, happy team relationships based on the establishment of clear communication. Peg also believes that training and behavior modification should be safe, enjoyable, and successful for both the dog and the humans who love them.
The Humane Hierarchy is the name of the road-map she uses to make ethical choices about the training methods she uses. The Humane Hierarchy is not a set of rules. It is a general ranking of training methods, starting with the least intrusive for the animal and ending with the most intrusive. Least intrusive is defined as the procedure that leaves the animal with the most control over its outcomes.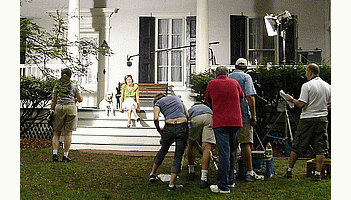 In addition to offering fun dog sport, Rally and Animal Acting coaching and workshops, Peg has been a Lead Handler, Trainer and Talent Scout for All Creatures Great and Small, a New York City-based animal talent agency. She has hundreds of acting jobs under her belt both with her own dogs as well as handling others.
Peg has been in the competition ring hundreds of times between Rally, obedience, and nose work and is a World Cynosport Rally and UKC Rally Judge. Since 2009, Peg continually attends workshops, takes courses, and attends as many trials as possible. She is a judge in Performance Scent Dogs (PSD), and Chief Search Designer (CSD), judge, and trial affiliate for United States Canine Scent Sports (USCSS).
Peg loves the teamwork and trust created with scent work and Rally and is committed to sharing the unlimited potential that Rally and nose work hold for all dogs and their people.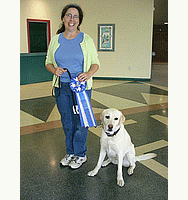 Peg and her yellow Labrador Retriever Jazz, ARCHMX Franklin Hill's Jumpin' Jazz CDX-H, NW1, RL3X9, RL2X11, RL1X13, RE, CGC (Good Dog Foundation therapy dog) enjoyed participating in numerous canine activities and dog sports. Jazz, the #1 dog in APDT Rally in 2009, had over 70 acting jobs to his credit, including ten live spots in a row on coast-to-coast morning shows for Purina and a childrens book for Scholastic. Both Peg and Jazz were featured on The Today Show and other national television programs. Jazz earned his Nose Work1 title at age 11 and regularly enjoyed the sport.

Her yellow Labrador Retriever Chi has several NACSW, PSD and USCSS titles and is competing at the Elite Level currently. He is also an accomplished actor and you can see his resume here.
---
About Nose Work
Based on training canine drug and bomb detection dogs, your dog first hunts for food treats, or a toy, and soon learns to hunt for Birch and other essential oils.
Every dog loves nose work. Nose Work gives your dog the chance to be a dog and use her/his strongest sense: the sense of smell.
Nose work is safe for ALL dogs: dogs work one at a time so there are never dogs interacting.
It's great for dogs who do other sports and pet dogs. It's great for worried dogs, dogs who worry about places, other dogs and people; great for very active dogs who can't seem to focus, and more. The drive to hunt overrides many everyday worries and allows you to truly connect with your dog as a team.
One of the best things about nose work is that you learn to really trust your dog. Another big benefit is that your dog has to work hard and gets tired.
While many teams do this just for fun, there are competitions where you can earn titles as well. Many of Peg's students have started just for fun and have gone on to earn titles and are VERY motivated. Peg makes it fun and exciting!

---
*LIMA = Least Intrusive, Minimally Aversive
---
E-mail Peg at peg@pegmunves.com
---
Go to top